Library Management
"Library management system" (LMS) supports library functions such as requisitions, acquisitions, cataloging, circulation, budget management, Serials Control, Enquiry, Opac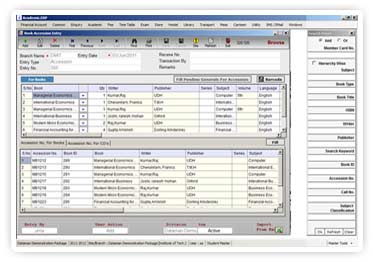 Library & Book Management Software covers Book, Journals & Periodicals Purchase, Accession Register maintenance, Binding, Bar Coding, Book Issue / Receipts, Stock Verification, Books write off, Stationary Purchase, Issue & Stocks, Donated Books, Book Scrap record etc.
Library management software module include reports like Purchase Register, Purchase Summary, Books Received/Issued, Books Stock Report Subject Wise, Author wise, Publisher wise, Library Member reports, Fine Calculation etc.
Key Features:

Integrated Multi-User Interface.

Book Purchase, Accession Register maintenance and Payment.

Binding.

Bar Coding.

Stock Verification.

Overdue/ Recall Notices.

Notices/ Reminders.

Budget Analysis with MIS Reports.